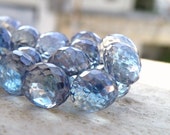 Blue Mystic Quartz Briolette Gemstone.
Gemstone: Mystic Quartz
Color: Grey-blue with silver flashes, navy, mystic coating, shimmery
Cut: Faceted Onion Drop Briolette - top drilled.
Size (Appx): 12mm, large beads
Quality: Excellent clarity, some minor colorless inclusions present.
Quantity: 17 beads. 1/2 Strand, Wholesale rate.
Click Here to Visit My Etsy Shop!