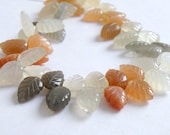 Gemstone: Moonstone
Color: White, Pale Peach, Grey-brown and darker peach, naturally glowing.
Cut: Carved Leaf Drop Briolette, top drilled.
Size (Appx): 11x8mm to 12x8mm
Quality: Gorgeous color, milky, translucent, some minor imperfections.
Quantity: 1/4 strand, 10 beads - a mix of colors.
More Beads: http://www.etsy.com/shop/s...
Click Here to Visit My Etsy Shop!